Italy Sicily | The Nordic Kitchen
I've not seen enough of Italy, that's for sure. Together with my boyfriend, I went to Sicily and the small town Cefalu a few years ago. I loved it! The pasta tastes just as much better as you think it should and the language is just as "singing" as you imagine. Come with me on a week-long journey to this wonderful island and maybe you'll get an idea what your next vacation will be.
The narrow streets are lined by old houses. Above you, you can see laundry hanging on lines that run between the houses and on the street, vespas are parked everywhere. I believe that the Italian life is all about driving your vespa to the local food market, buying fresh tomatoes and herbs, driving back home and cooking a classic pasta dish, which you of course serve with a great Italian wine. After dinner you do your laundry, leaving it to dry on a line outside your window. In the evening you take a walk down to the beach, watch the sunset and take a stroll through town on the way home, buying some gelato for dessert.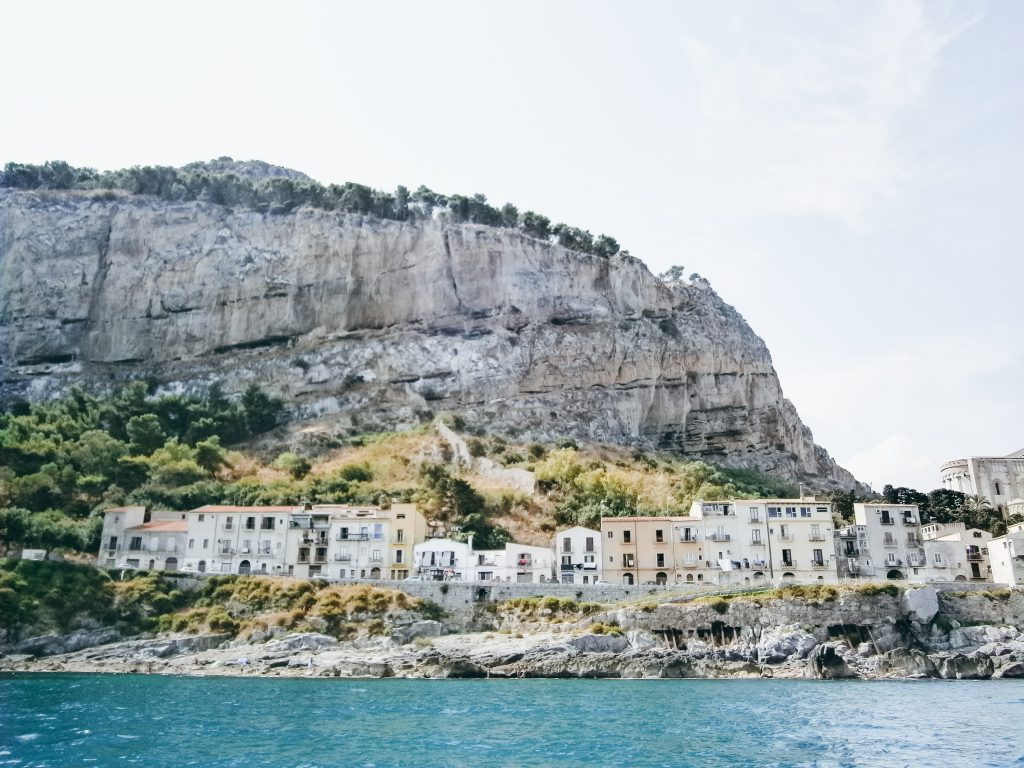 I know that reality probably doesn't look like this for most Italian families, but when you're in Italy you get the feeling that everyone's so unstressed and calm (well, the traffic is an exception). You cannot help but believing that everyone lives that calm life I described above.
I lived the Italian life for only one week, but I definitely need to go back for more of this pasta-gelato-wine-beach-ocean-life. Sicily has a lot to offer and to see the entire island I recommend to hire a car (if you dare). We didn't, but I know friends who did and they say it's totally worth it. We discovered the local surroundings by bike (which is also great) and one day we climbed the mountain La Rocca. From the top you get to see the most amazing view (see photos below). Just remember to bring A LOT of water when you go. I also recommend you to see the volcano Etna. We drove past it by bus and it was so cool! I believe it's even better if you get a little closer.
Exploring is of course great, but don't forget to enjoy the Italian life, just like I described it above. Every evening we had dinner and then walked hand in hand down to the beach, where we watched the sunset. Then we either walked back home to enjoy the warm evening breeze on our terrace, or we had a glass of Italian red wine in a bar somewhere. The trip to Sicily is still one of my favorite ones and I guess that's why I'm so keen to go back to Italy. Venice has always been a dream and so has Rome. So if anyone wants to buy me a ticket somewhere, you know what I want 😉
5 things to do in Cefalú:
Eat cannoli (meaning "a small tube"). This Italian pastry consists of a tube-like shell, which is made of pastry dough and is filled with ricotta cream. A must if you visit Sicily.

Eat pasta and pizza and learn how these dishes should really taste. I use to say that you haven't had real pasta or pizza until you have eaten it in Italy. The taste is completely different and sooo much better.

Climb the mountain La Rocca. Just look at the photos above and you need no more arguments to realize that you have to do it.

Explore the old town.

Go on a scuba diving tour and explore what Sicily has to offer underwater. If given the option to wear a wetsuit – wear one. You'll be terribly cold after a couple of hours in the water, even if you visit Sicily in the middle of the summer.