It's Friday afternoon and for the first time in quite a long time, I'm writing a blog post just before publishing it. Normally, I write my blog posts in advance, since it allows me to plan and schedule my posts both here and on Instagram. Long gone are the times when you snapped a photo of your dinner and then immediately posted it on Instagram ?
Nowadays it's all about testing the recipes at least two times before posting them, you have proper photo shoots and then spend quite some time editing all the photos. It's a business, to say the least. But I love it.
Anyway, it's 22°C in Stockholm today. The sun is shining from a clear blue sky and I'm planning on stop working pretty soon. I also went out on a long run during my lunch break, just to get some sun and to enjoy the amazing weather. Spring is definitely here now and this morning I could even enjoy my coffee outdoors. Now, if you live in Sweden the first cup of coffee outdoors is a big thing. When you get to come out from your winter hideout and feel the sun on your skin. Well, it's huge. Now I'm just waiting for all the pretty cherry blossoms and magnolias, but it won't be long until they're here.
When the spring arrives, the rhubarbs do too. I found some fresh ones in our local supermarket the other day and of course, I had to buy a few stalks. I have been planning to create two pie recipes for the spring/summer season, one with strawberries and rhubarbs, and one with blueberries. I'm saving the blueberry one for later, but I'm so excited to share my recipe for this gluten-free and vegan galette with you. It's filled with the most amazing combination of sweet strawberries and the more sour rhubarbs. I just love this combination of flavors and I hope you'll like the recipe as much as I do. Scroll down to get the recipe <3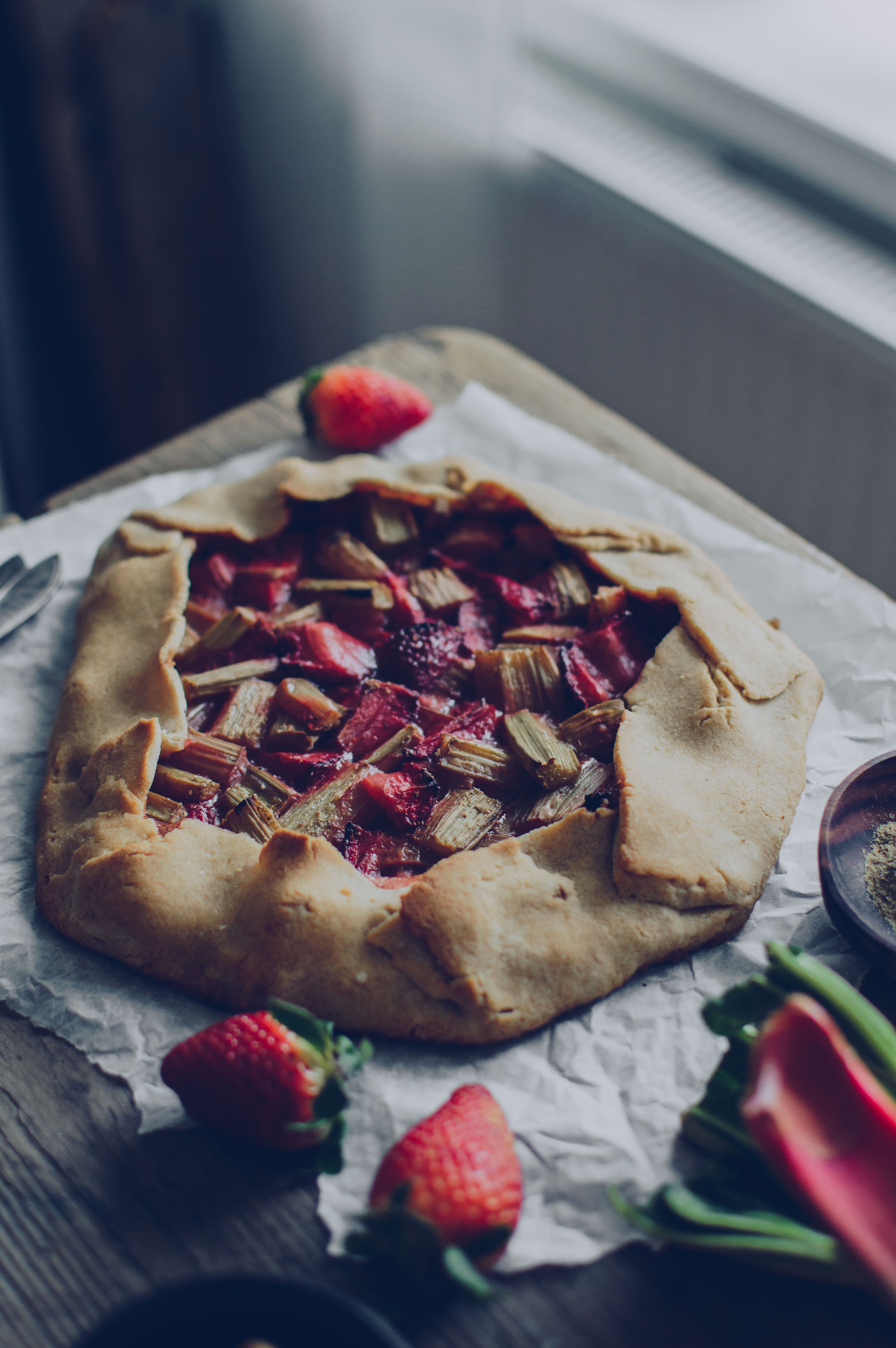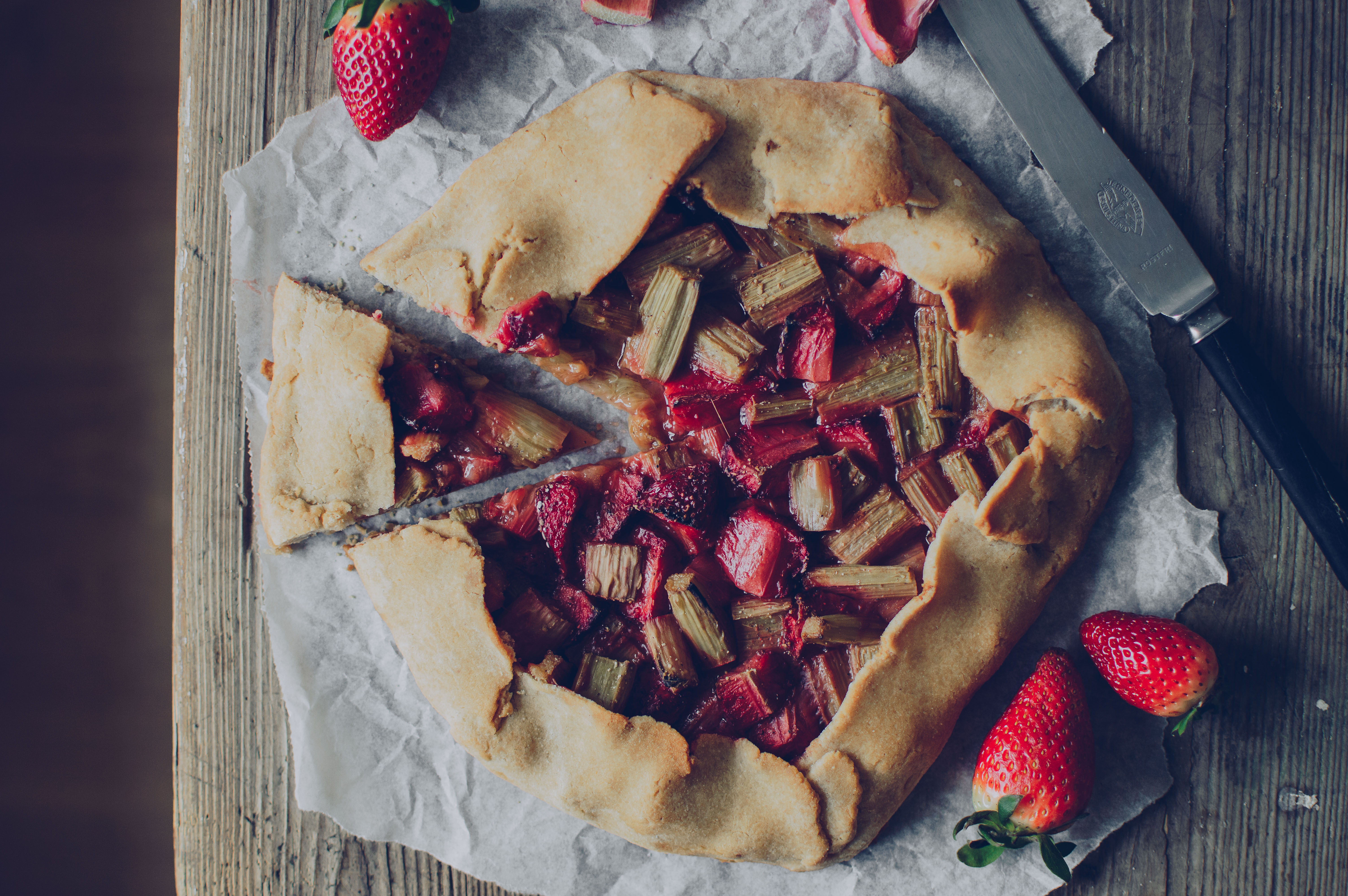 Strawberry & Rhubarb Galette | v + gf
1 galette
Pastry
2 dl (110 g) rice flour
1 dl (55 g) gluten-free oat flour
2 tsp psyllium husk
¼ tsp sea salt
3 tbsp coconut sugar
50 g vegan butter or non-flavored coconut oil
4 tbsp ice cold water
1 1/2 dl oat milk (more if needed)
Rhubarb filling
3 stalks rhubarb
Zest of one organic lemon
Juice of one organic lemon
Pinch of ground vanilla
1/2 dl coconut sugar
1 tbsp cornstarch
Vegan egg wash (use one of the following)
Melted coconut oil
2 tbsp oat drink mixed with 1 tsp of maple syrup
1 tbsp aquafaba
Directions
In a baking bowl, combine all dry ingredients.
Add the vegan butter (or coconut oil) to the bowl and use your hands to rub the butter/oil in and break it up. When the butter/oil has turned into small crumbs, add the water, a tbsp at a time, and stir together.
Add the oat drink to the pastry dough and stir until everything's well combined. If the dough isn't holding together, add a little bit more oat drink (about a tbsp at a time) until it does.
Let the dough rest on the countertop for about 20 minutes.
Prepare the filling by rinsing the strawberries and the rhubarbs.
Chop the strawberries into halves, then chop each half into 2-4 pieces, depending on the size.
Chop the rhubarb stalk lengthwise into two halves. Then, cut each half into 1 1/2 cm long pieces.
In a baking bowl, combine strawberries, rhubarbs, lemon zest, lemon juice, vanilla, coconut sugar, and cornstarch. Stir together carefully so that everything combines.
Roll out the pastry dough into a large circle, about 5 mm thick. If needed, even out the edges by using a sharp knife. A tip is to roll out the pastry between two parchment papers. Add a little rice flour on top of the dough if it's too sticky.
Place the pastry dough on a parchment paper covered baking sheet.
Spread out the filling on the dough, but leave a 3-4 cm border so that you can fold it.
Fold the border over the rhubarb filling and create nice seams at 7-8 cm intervals.
Place the galette in the fridge for about 30 minutes. While the galette is chilling, heat the oven to 175°C.
Remove from the fridge and brush the pastry rim with one of the vegan egg was suggestions.
Bake for about 60 minutes, or until the rhubarbs are glossy and the galette has got a nice golden color.
Let cool for a while before serving the galette with some vegan whipped cream or ice cream.