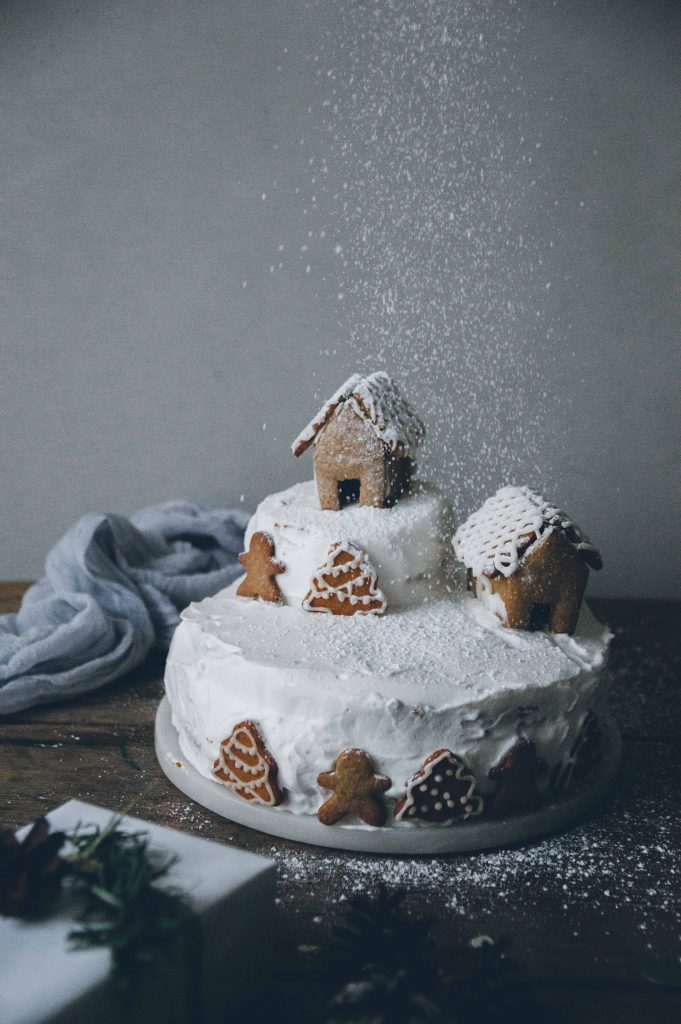 I knew already in August that I wanted to make a beautiful Christmas cake this year. I'm not a big fan of cakes to be honest, but I absolutely LOVE to make them. If I'm making a cake, I always make it simple and not too sweet. I usually add some sort of fruit or berry to the filling, and I usually use some sort of vegan cream cheese (that I spice up with some spices or fruit) for the frosting. Perhaps it's not a "real" cake, but that's how I do it, hehe.
Real cake or not, it's delicious anyway! Since it's a Christmas cake, it's seasoned with all the Christmas spices like cinnamon, clove, ginger and cardamom. And the filling is whipped vegan cream with orange and vanilla. Simple, yet delicious. The frosting is also very simple, just vegan cream cheese and some gingerbread spices. And then I went bananas with the decorations – gingerbread cookies and mini gingerbread houses. It was so much fun making this cake and I'm almost ashamed to say this, but I can't wait to make another Christmas cake next year.
Xx,
Sofia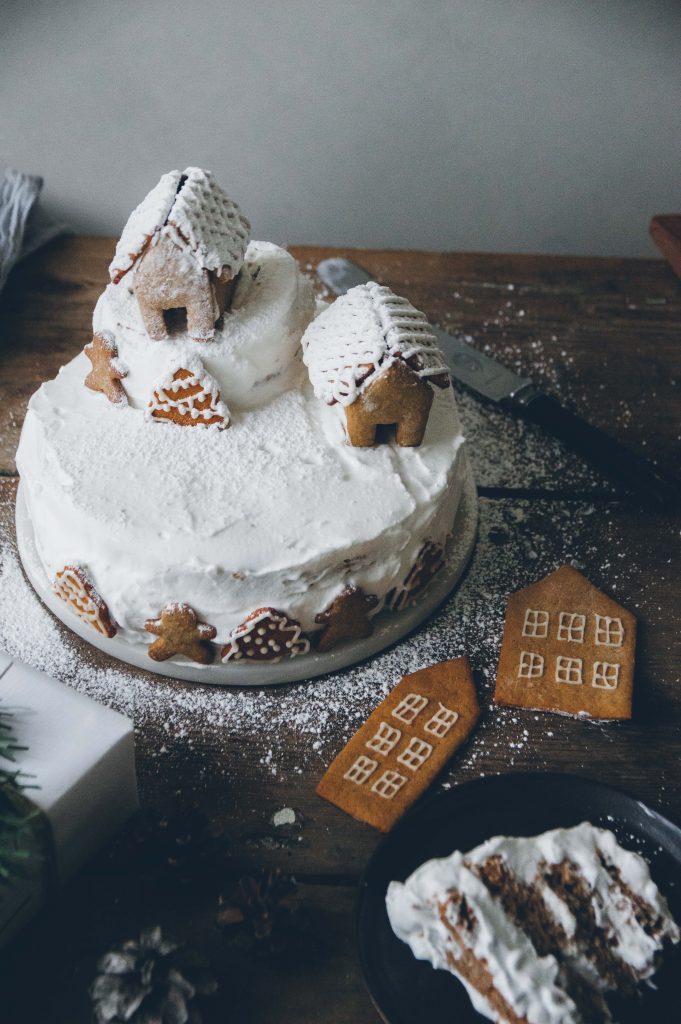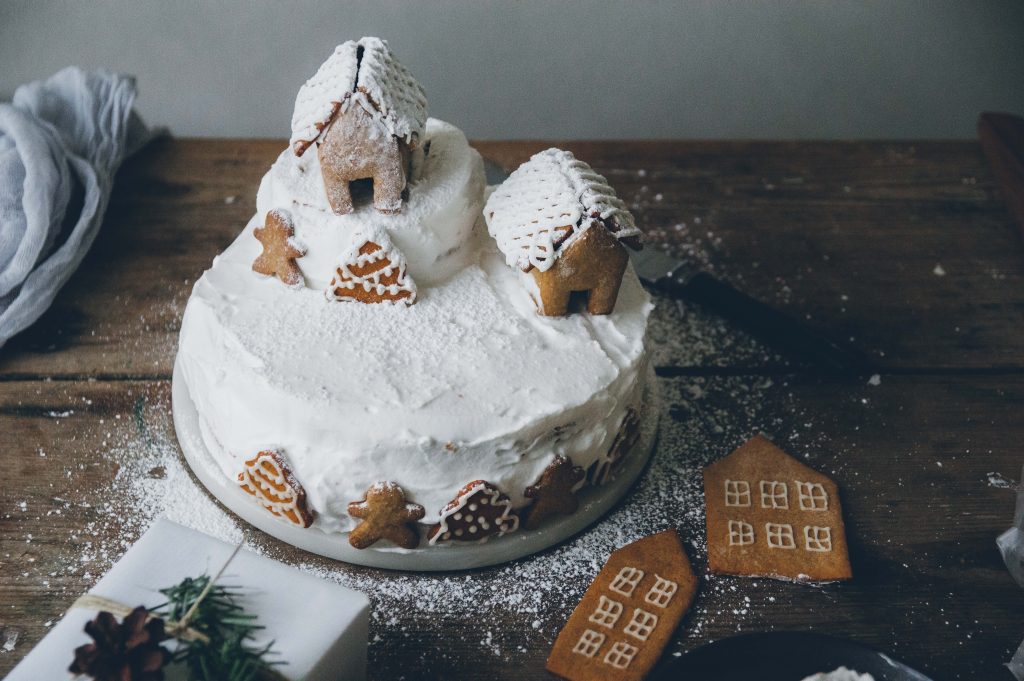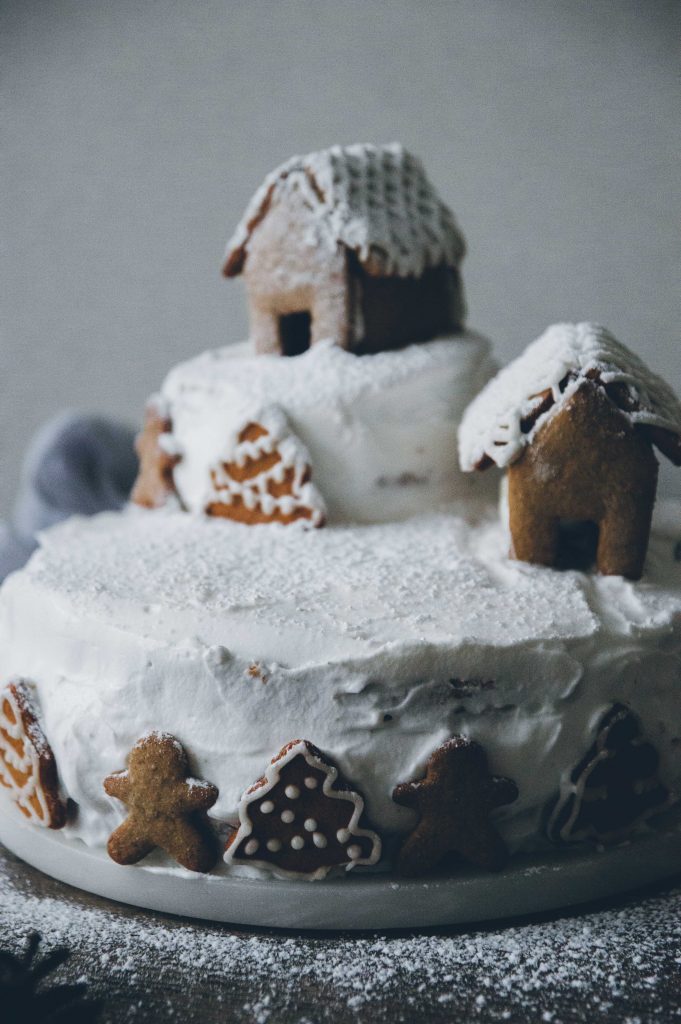 Christmas cake
3 dl | 300 ml all-purpose flour
1 dl | 100 ml sugar
3 tbsp aquafaba 
2 tsp ground cinnamon
1 tsp ground cloves
1 tsp ground cardamom 
1/2 tsp ground ginger
2 tsp baking powder
75 g vegan margarine
1 1/2 dl | 150 ml oat milk 
FILLING
zest from 1/2 an organic orange
1/2 tsp ground vanilla
1/2 dl | 30 g icing (powdered) sugar
4 dl | 400 ml cream of your choice (soy/coconut)
FROSTING
250 g (or more) vegan cream cheese, I used Oatly sandwich spread (På Mackan på svenska)
1/2 tsp ground cardamom
1/2 tsp ground cloves
1/2 – 1 dl (50-100 ml) icing sugar (depending on how sweet you want the frosting)
INSTRUCTIONS
Preheat the oven to 175°C. 
Beat sugar and aquafaba until fluffy. 
In a baking bowl, combine all the dry ingredients.
Melt the margarine and add the oat milk. 
Add the margarine to the aquafaba mixture and stir together. 
Add the mixture to the dry ingredients and stir until smooth.
Pour the batter into a cake pan and bake in the middle of the oven for about 20-25 minutes. 
If you want to make a cake in two levels, you'll have to make 2 batches of the cake batter. Use a smaller pan if you want, or use the same pan and cut out smaller circles using a glass or whatever you have at home.
Cool cake(s) to room temperature, then slice layers equally in half with a sharp knife.
Combine all the ingredients for the filling. Beat the cream until fluffy and thick (takes a couple of minutes). 
Prepare the frosting by combining all the ingredients in a bowl. 
Add a generous amount of the cream filling on the bottom cake layer and smooth.
Top with the second cake layer and cover with filling.
Add the top cake layer. Repeat with the second level (if you have one). 
Now, cover the cake with frosting. Smooth it over the cake, so that the cake is all covered in frosting. Put a little time and effort into this, so that the cake looks smooth and nice.
Keep the cake in the fridge until it's time to serve it and decorate it just before you serve it to your guests. You can use any gingerbread cookie you like here so use your creativity and create some magic!