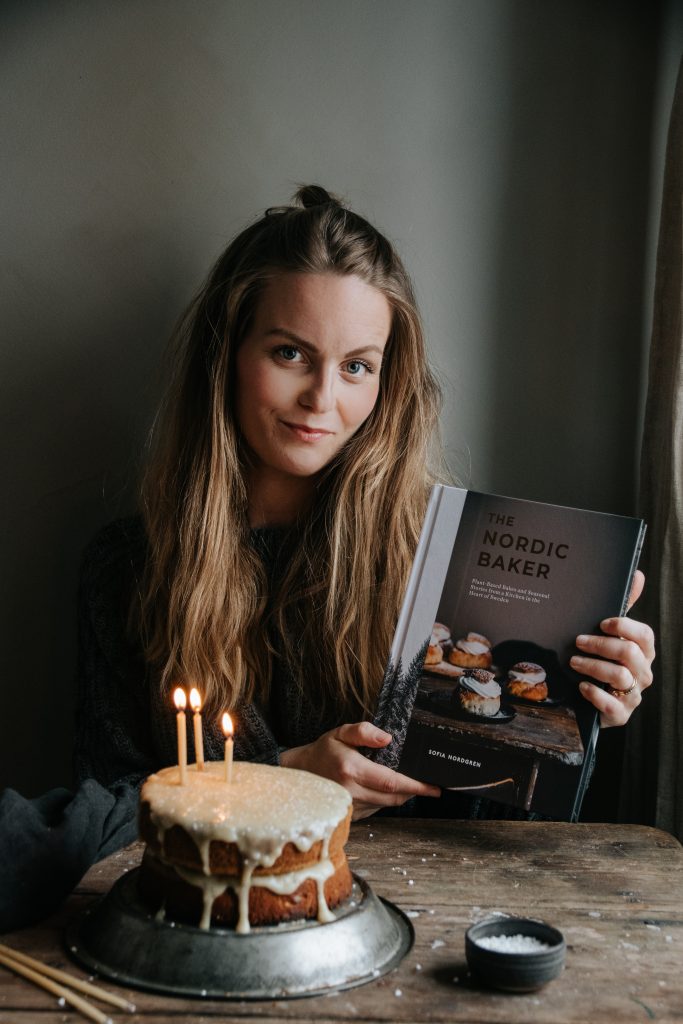 Today is the day. The day that his been on my mind for more than a year now. Today my cookbook The Nordic Baker is released! It is so exciting that you'll soon have the book in your hands. I really hope that you'll like it and find it inspiring.
I'm celebrating with cake today (of course). And it's not just any cake, it's cinnamon bun cake. You'll find the recipe below, but first I want to share a few photos with you. Oh, and if you haven't ordered the book yet, you can find it on Amazon (worldwide delivery), in book shops, and online stores. 
Thank you for all your support, this book would not exist without you!
Xx,
Sofia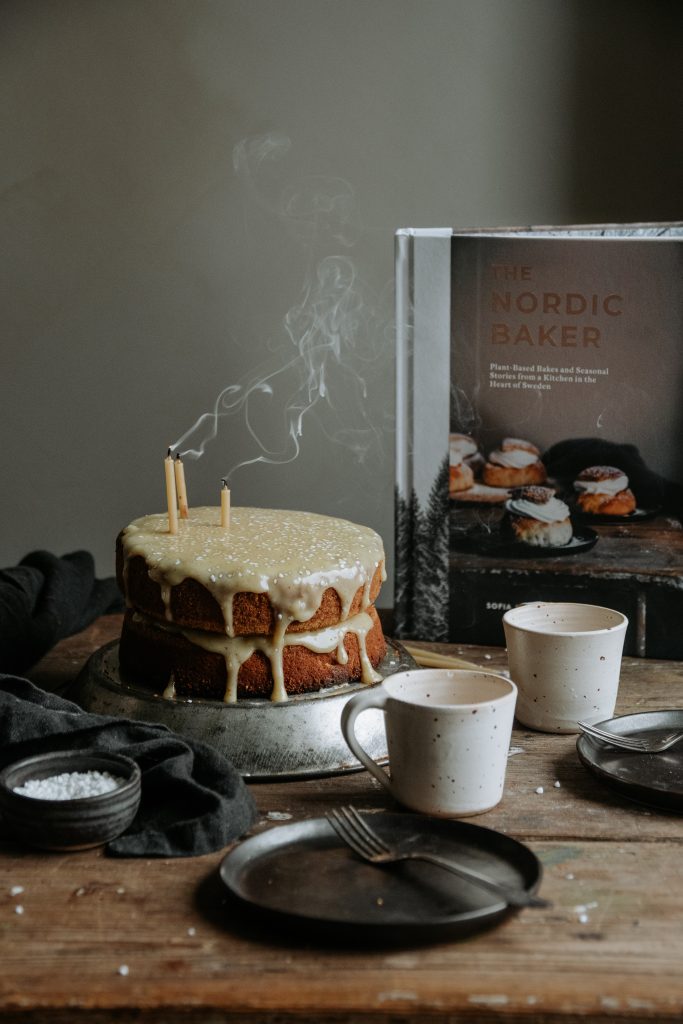 Cinnamon bun cake with vanilla custard
Cake (1 layer) – you'll need 2 layers
1 1/2 dl | 150 ml aquafaba
1 1/4 dl | 110 g caster sugar
1 3/4 dl | 105 g all-purpose flour
1/2 dl | 40 g pearl sugar (can be omitted)
1 tsp baking powder
1 tsp freshly ground cardamom
Vanilla custard
3 dl | 300 ml oat milk
2 tbsp potato starch
pinch of salt
1 1/2 tsp bourbon vanilla powder
4 tbsp granulated sugar
25 g vegan margarine
Decoration
pearl sugar
Instructions
Preheat the oven to 200°C. 
Add aquafaba and caster sugar to a bowl and beat until fluffy. 
In a separate bowl, combine all-purpose flour, baking powder, cardamom and pearl sugar. 
Add the flour mixture to the aquafaba and stir until smooth. 
Line a 15 cm cake pan with baking parchment and pour the batter into the pan. 
Bake in the middle of the oven for about 20-30 minutes, or until light golden. 
Let cool for about 15 minutes in the pan, then transfer the cake to a wire rack and let cool completely. 
Repeat step 1-7 to make a second cake layer. 
Prepare the vanilla custard: in a saucepan, combine oat milk and potato starch. Stir continuously while heating it over medium heat until it thickens. 
Remove the saucepan from the stove and add salt, vanilla, sugar, and margarine. Let cool. 
Assembly: Place one of the cake layers on a cake stand. Spread about half of the vanilla custard on top. Place the second cake layer on top and cover it with the rest of the vanilla custard. Sprinkle with pearl sugar. Decorate with candles or other things you like.