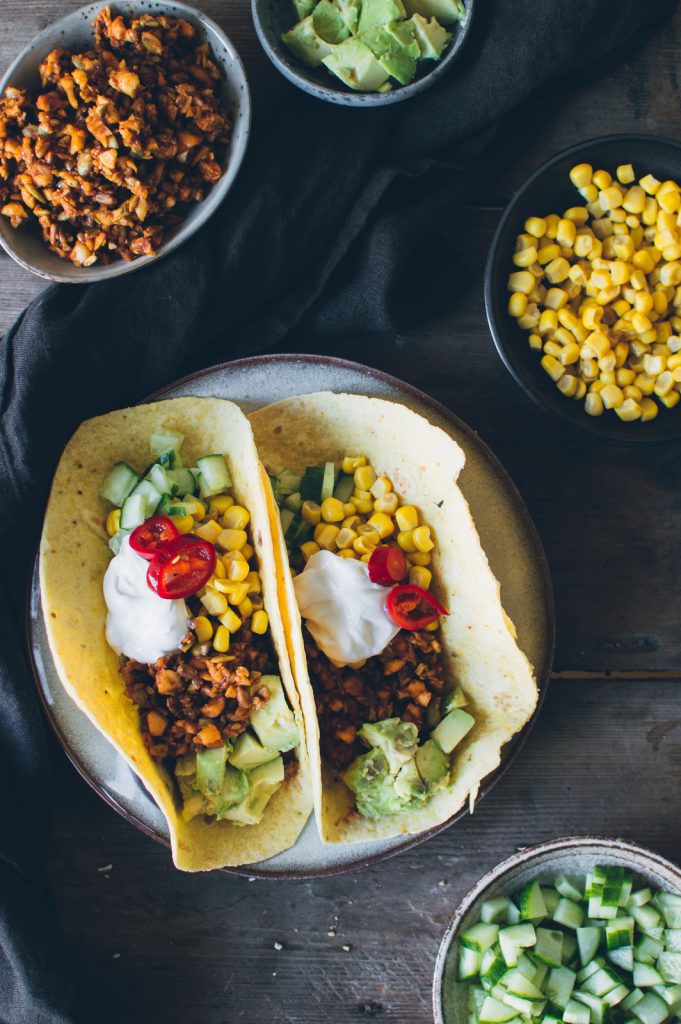 Tacos – is there a more popular dish? In Sweden "taco Friday" has become a thing, and I think that like 50% of all Swedish families eat tacos on Fridays. Even if we aren't eating tacos on Fridays, we eat tacos (or something similar) once a week for sure. It's delicious, you eat a lot of veggies and everyone likes it since you can pick and mix the way you want.
When we don't know what to make for dinner and we don't want to spend more than 15 minutes preparing it, we usually take some corn tortillas and fill them with canned and rinsed beans, corn, salsa and whatever veggies we have in the fridge. It's not the real deal, but it's tasty and I guess it's close enough to fall under the tacos category.
Neither K, nor I is especially fond of the minced meat-substitutes you can buy at the grocery store so when we're making tacos we usually go with beans. It can be a little boring though and it's hard to get that taco flavor (from cumin, paprika, garlic and chili) in. So, I decided to try a new thing – nut & seed tacos.
I had seen it somewhere else before, I cannot remember where, but I thought the idea of basing your tacos on nuts was brilliant. I didn't have a recipe to follow, I didn't even know exactly what ingredients to use. Well, time to start experimenting in the kitchen then. The first time I made it I didn't add any water, which resulted in a very dry and boring taco dinner. The second time I added way too much water, which was even worse. The third time (and ever since) I've added "lagom" (Swedish for not too much, not too little) and it has been so delicious! It's so easy to make too, which is nice. And nuts and seeds are so nutrient dense which is great as well.
It's simply cashews, pumpkin seeds and sunflower seeds mixed together with taco spices. It's simple and takes less than 15 minutes to prepare. The ingredients are staples in our kitchen so if we feel like making a spontaneous taco dinner there is no need to run away to the grocery store to buy ingredients. And that is something I like!
Since it's Friday, I thought it would be great to share this recipe with you guys today.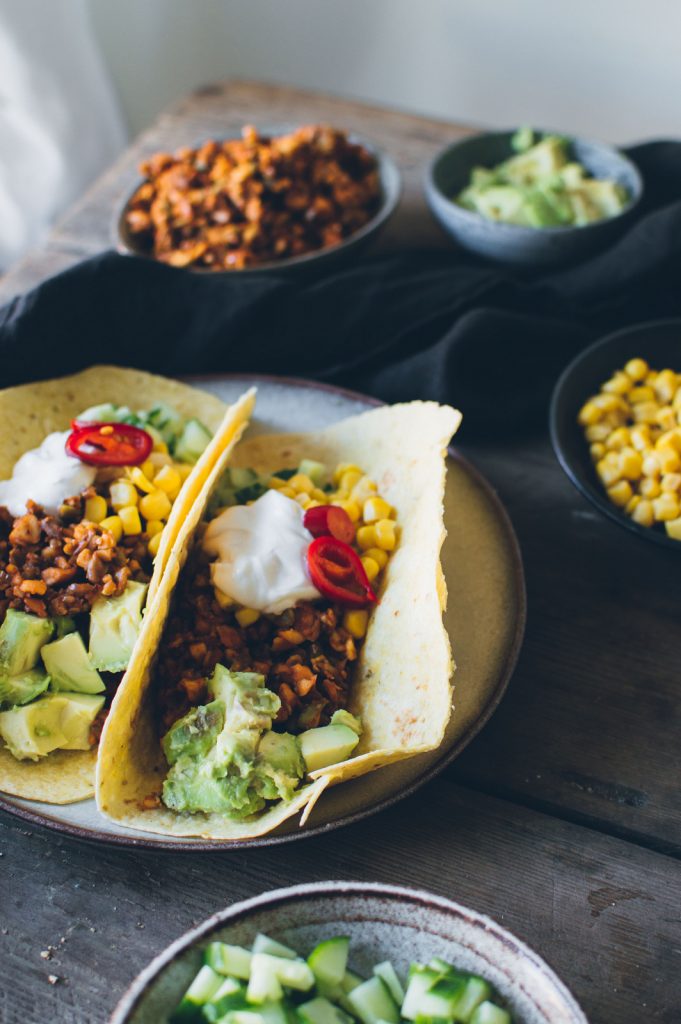 Vegan Nut & Seed Tacos
2 dl cashew nuts
3/4 dl pumpkin seeds
1 1/2 dl sunflower seeds
2 tbsp organic taco spice mix
1 1/2 dl vatten 
non-flavored coconut oil for cooking
to serve
corn tortillas
all your favorite taco ingredients like;

corn
cucumber
tomatoes
bell peppers
avocado / guacamole
salsa
Oatly iFraiche
Instructions
Coarsely chop the cashews, pumpkin seeds and sunflower seeds (or use the pulse function on your blender).
Combine the chopped nuts and seeds with the taco spice mix.
Heat up some oil in a frying pan and add the nut mix.
Stir and add the water. Let cook over low heat for about 5-10 minutes.
Serve with all your favorite taco ingredients like avocado, corn, tomatoes, cucumber and salsa.
If you try this recipe, please let me know what you thought of it. If you share a photo on social media, make sure to tag @thenordickitchen so that I can see <3