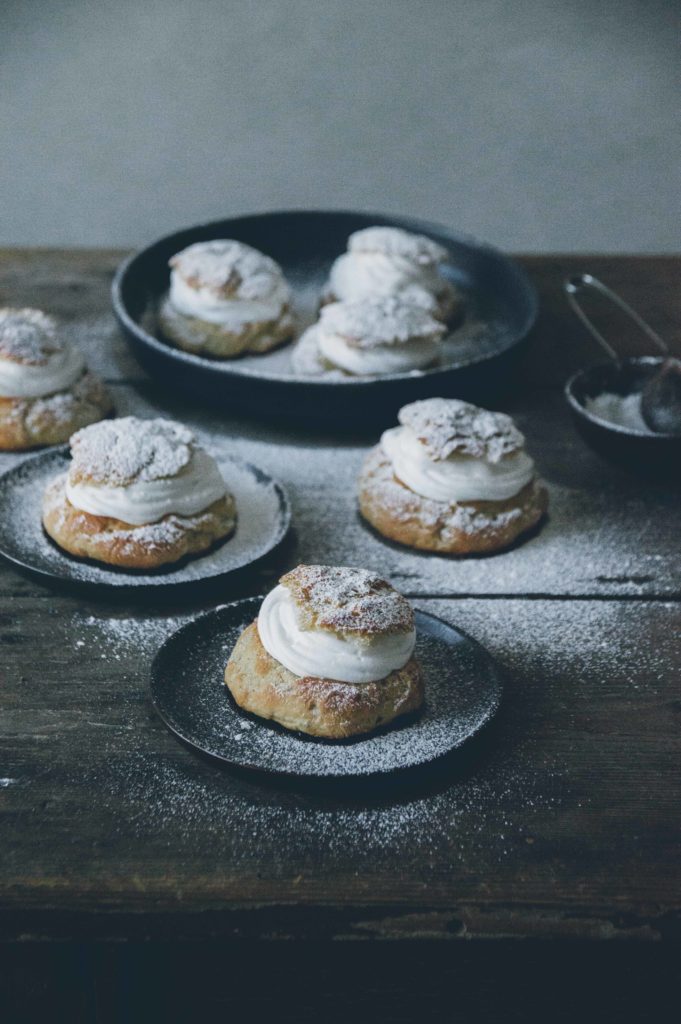 Believe it or not, but this is the first time I'm making "semlor" myself. Like, real ones. Not a muffins version or anything. To be honest, I've been a little scared of trying this. I've thought of it as something super difficult, when in fact, it is not. For all of you non-Swedes, a semla (semlor in pluralis) is a wheat flour bun seasoned with cardamom and filled with almond paste and whipped cream. It is traditionally eaten only on one Tuesday in February, a day we call Fat Tuesday. Nowadays you can probably buy semlor any day of the year, but I like to stick to the traditions and eat it only on this particular Tuesday (or at least only in February, hehe).
Making vegan semlor is not hard at all. These turned out great (I've had several people tasting them so it's not only my words, hehe). I think that the key is to work the dough for quite some time, at least 10 minutes by hand. The recipe looks a bit advanced since there are several steps involved in the process, but I promise that it's not hard at all.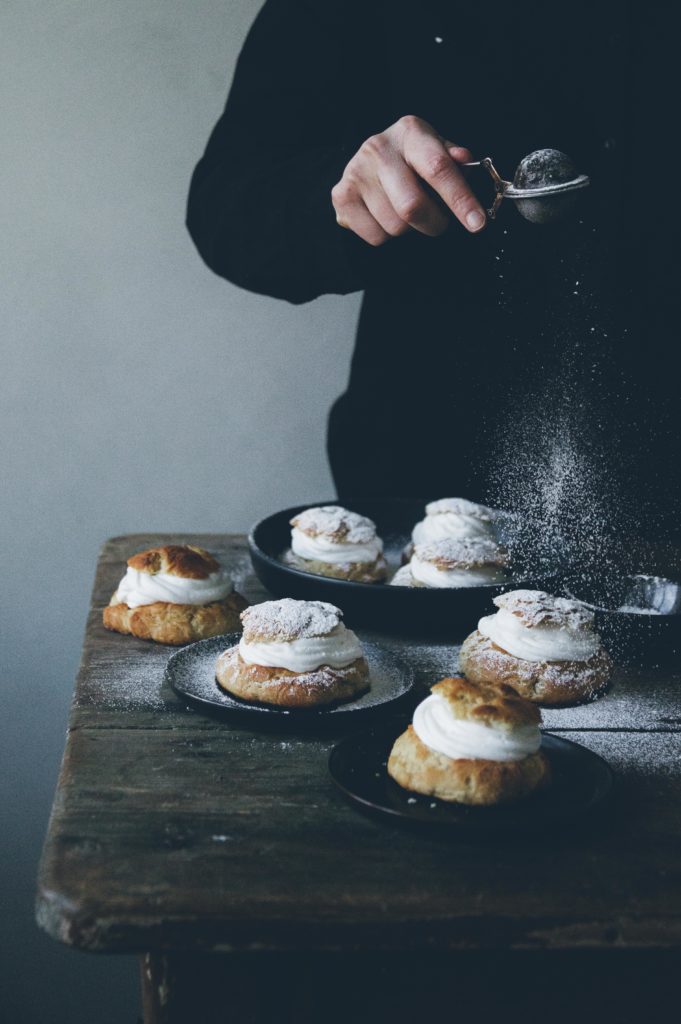 I try to make everything from scratch when I cook or bake – I want everything free from additives and I also find it more tasty when home made. And it's cheaper too. Almond paste is one thing you can buy in the store (at least in Sweden), but it's so easy to make your own and it tastes much, much better. I promise. Now, let's have a look at the recipe and then you can start baking. I hope you'll like this Swedish pastry as much as I do.
Xx,
Sofia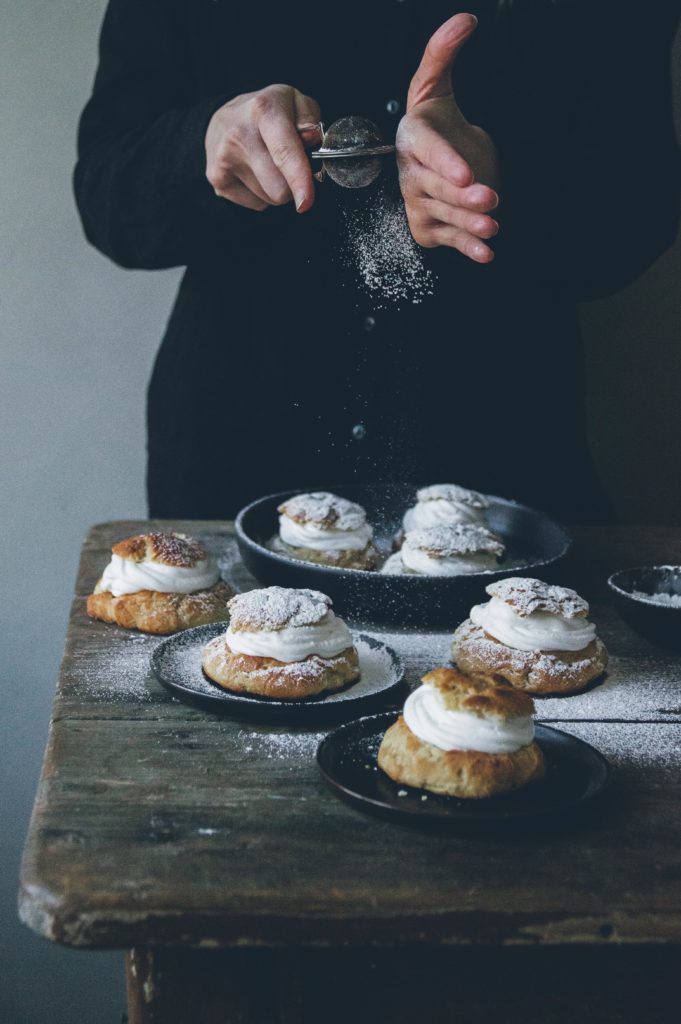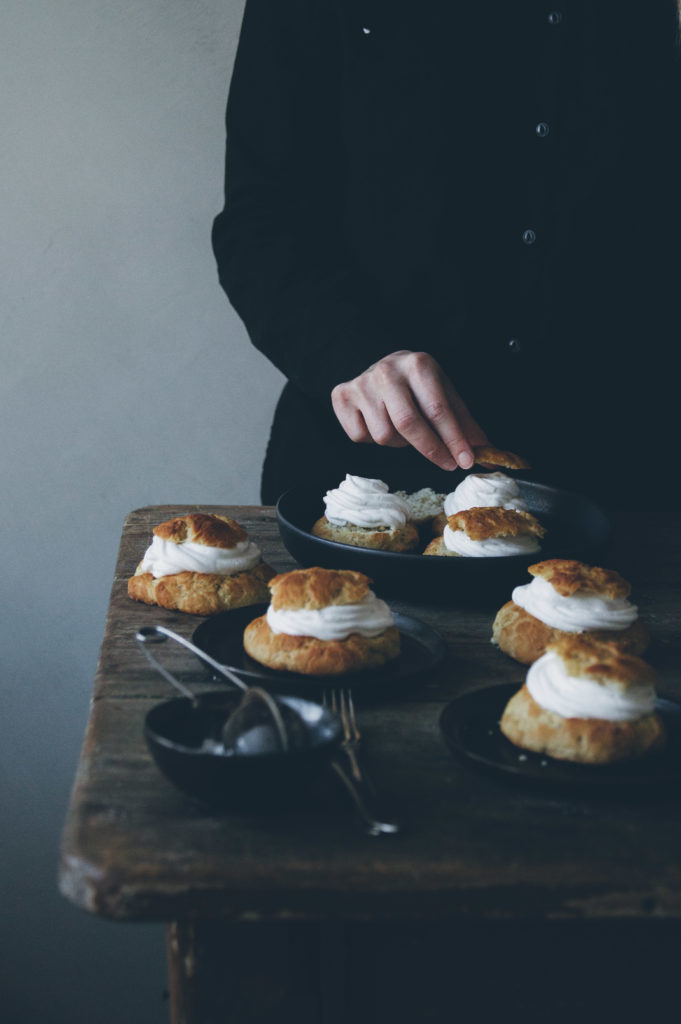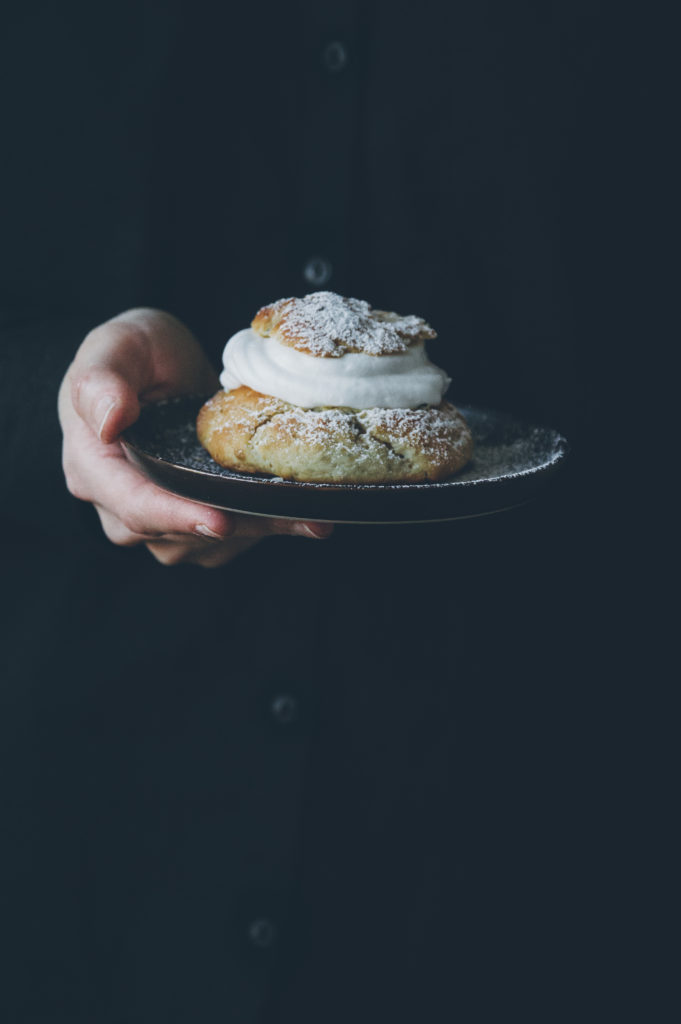 Semlor
Makes about 8 semlor 
If you, like me, are allergic to almonds you can still make semlor. If you can eat other nuts, pick one you like a mix to a coarse flour. I often use cashew nuts instead of almonds. If you are allergic to all nuts, you can use any seed you like instead.
For the dough
25 g fresh yeast 
2 dl | 200 ml cold oat milk
3/4 dl granulated sugar
1 1/2 tsp ground cardamom
pinch of salt
5 1/2 dl wheat flour + extra for baking
100 g vegan margarine, room tempered and cut in pieces
Plant milk for brushing
For the almond filling
75 g almond flour
4 tbsp granulated sugar
1/2 tsp ground cardamom 
5 tbsp plant-based whipping cream
Crumbs from the buns (see instructions)
For decoration
2 dl whipping cream (plant-based)
Make the buns
In a baking bowl, crumble the yeast. 
Add plant milk and stir until the yeast is completely dissolved. 
Add sugar, cardamom, and salt. 
Now add about 3 dl flour to the mix, and also stir in the margarine. 
Work the dough until the margarine is mixed in. 
Add the rest of the flour and work the dough for a few minutes.
Let the dough rise (covered) for about one hour.
On a floured surface, work the dough for a couple of minutes. 
Divide the dough into 8 pieces and shape each piece till a round ball. 
Transfer the buns to a baking sheet covered with parchment paper.
Let rise (covered) for another 30 minutes. 
Heat the oven to 225°C. 
Brush the buns with plant milk and bake in the oven for 10-15 minutes, or until golden. 
Let cool completely. 
Cut the "lids" of the buns, and make a well in the middle. Save the crumbs for the paste (see below). 
Make the almond paste
In a baking bowl, combine almond flour, sugar, cardamom and vanilla.
Add plant cream and stir together.
Add the crumbs from the buns to the almond filling. Add more cream if needed. 
Fill the holes in the buns with the almond paste. 
Decorate the buns
Beat the plant cream until fluffy.
Pipe or spoon cream on top of each bun. 
Put the lid back on top and sprinkle with powdered sugar. 
Serve with coffee.