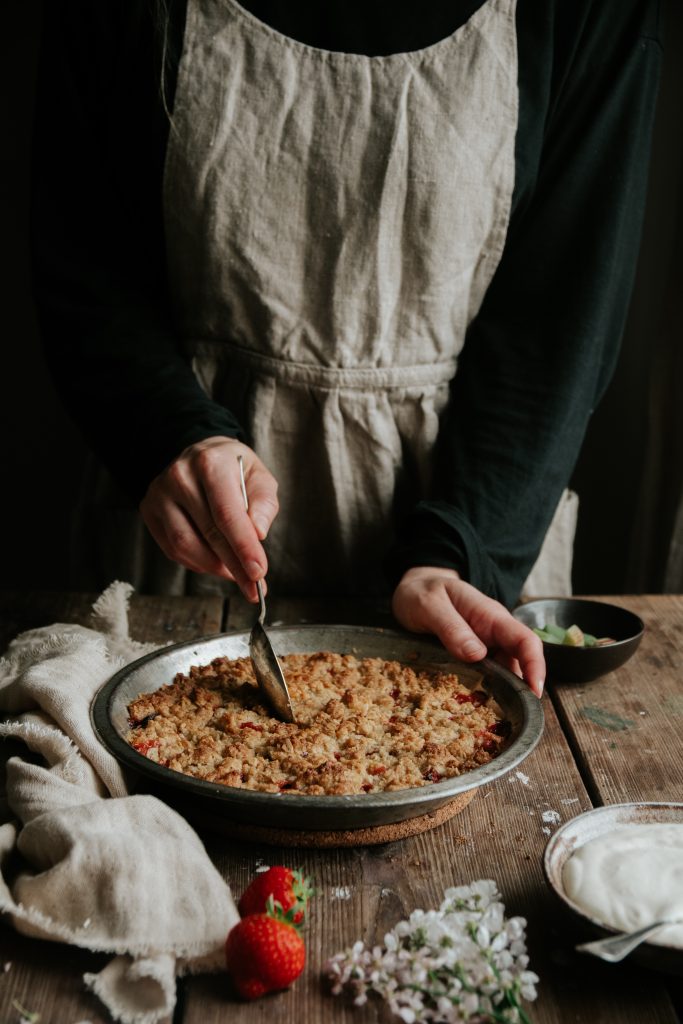 Strawberries and rhubarbs are two of my favorite things about spring and summer. To walk out barefoot in the morning to pick a bowl of fresh strawberries in the garden is a true luxury for me. Harvesting fruits, vegetables and berries from your own garden and not having to buy them from the supermarket – not much beats that. 
Even though I prefer to eat my strawberries raw, it's also wonderful to sometimes use them in baking. Pairing strawberries with rhubarbs in a compote or jam is super delicious. The combination of sweet strawberries and tangy rhubarbs is so good it makes me wonder if they were once made to be eaten together.
Speaking of favorites, let's talk about another favorite – crumble. A fruit/berry crumble is such a perfect summer dessert if you ask me. It's easy to make and you can use all the fresh produce summer has to offer. The filling can be changed depending on what you have at home, but using strawberries and rhubarbs is probably my favorite. You'll find the recipe below. 
Sofia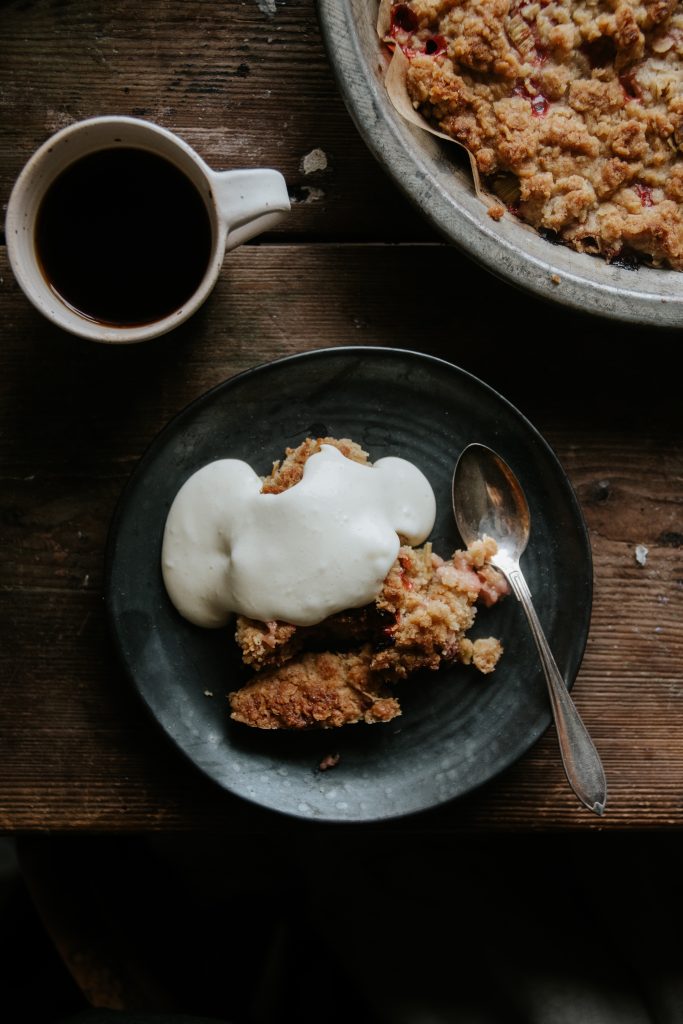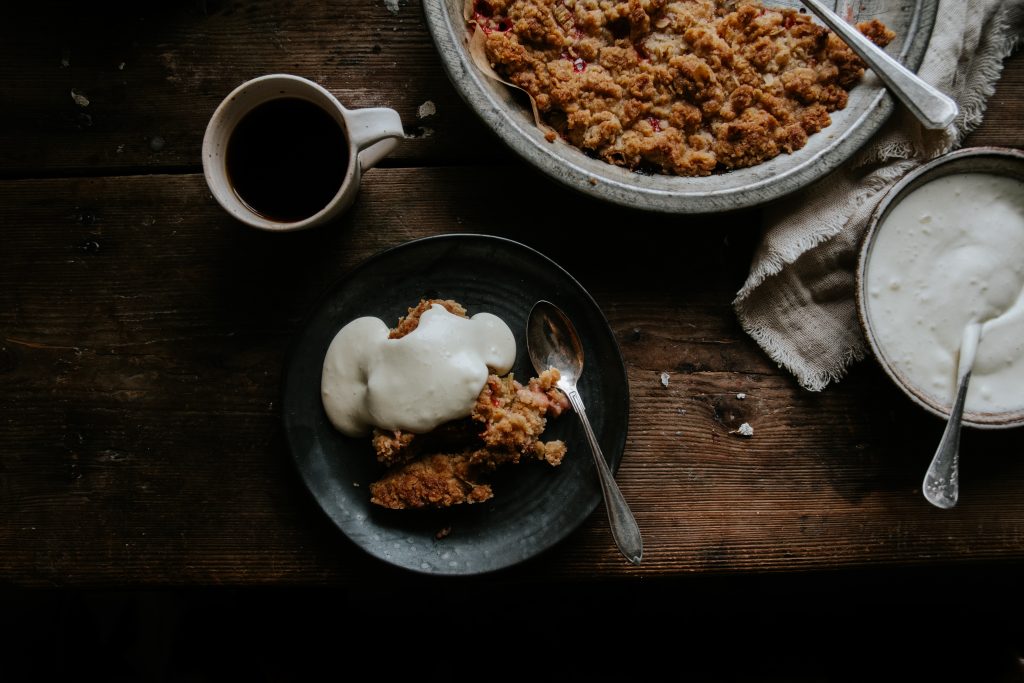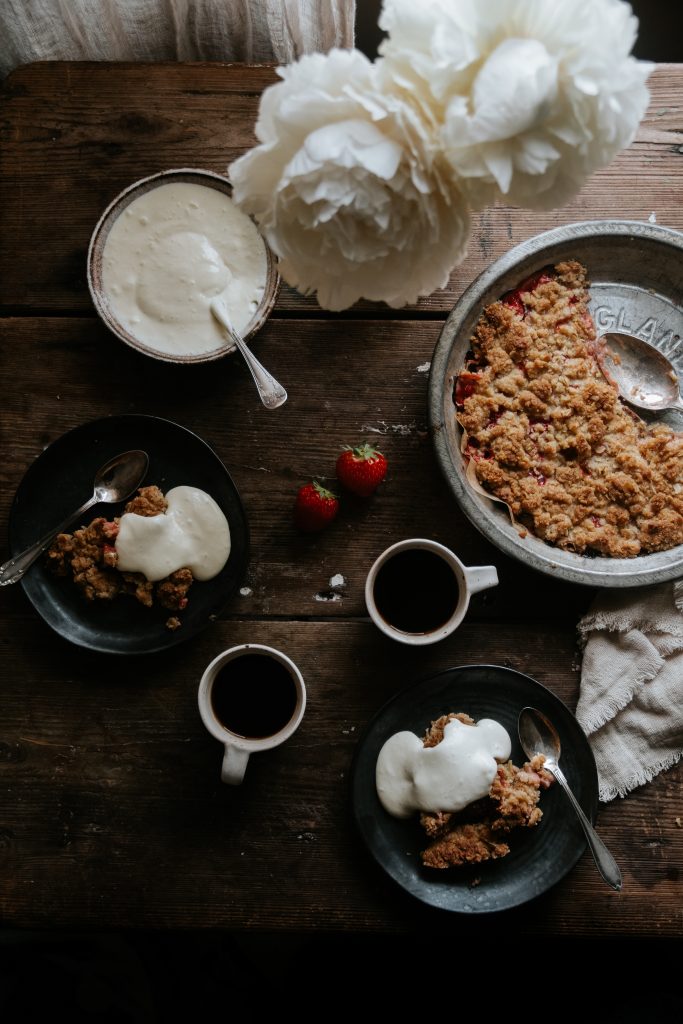 Strawberry & rhubarb crumble
Crumble
2 1/2 dl | 100 g rolled oats 
1/2 dl | 30 g all-purpose flour
100 g vegan margarine 
Filling 
250 g strawberries
250 g rhubarb
1 tbsp potato starch 
3 tbsp caster sugar 
Instructions
Preheat the oven to 200°C. 
Add all ingredients for the crumble to a bowl and combine into a crumbly dough. 
Cut the strawberries in pieces. Snap off the ends of the rhubarb(s) and chop. Peel as necessary. Place strawberries and rhubarbs in a pie tin (~24 cm).
In a bowl, combine potato starch and caster sugar and sprinkle over the berries. Stir carefully. 
Add the crumble on top and bake for about 35 minutes in the middle of the oven. The pie is done when the crumble is golden brown. 
Let cool and serve with ice cream or whipped (plant) cream.