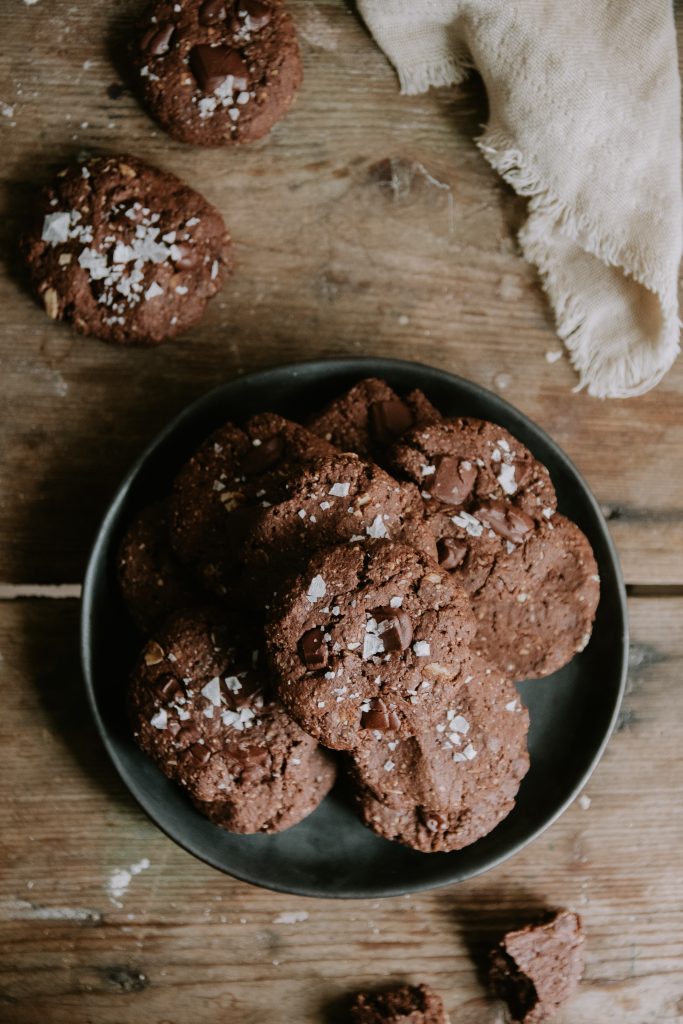 My latest mission has been to come up with a good cookie recipe. I had an idea of cookies that tasted good (obviously) and were kind of filling too. Like a perfect snack to go with your afternoon coffee. I thought of the classic Swedish pastry "chocolate balls" and decided to turn them into cookies. They turned out exactly how I wanted them! A little chewy, with bits of chocolate in them and a little sea salt sprinkled on top. Mmhm! You'll find the recipe below.
Happy baking!
Sofia 
Chocolate cookies with sea salt 
about 15 cookies
100 g plant based margarine, room tempered
1 dl coconut sugar 
4 dl oat flour (you can make your own by mixing 4 dl rolled oats to a flour) 
2 dl rolled oats 
2 dl spelt flour 
1 dl cocoa powder 
1/2 tsp baking powder
5 tbsp cold coffee 
2 tbsp water
pinch of salt 
70 g dark chocolate 
flaky sea salt to sprinkle (optional)
Instructions
Preheat the oven to 175°C. 
Add margarine and coconut sugar to a blender or food processor. Mix until smooth and somewhat fluffy. 
Add oat flour, spelt flour, cocoa powder, baking powder and salt to the margarine mixture and mix into a batter. 
Coarsely chop the chocolate and add it to the batter. Also add the rolled oats. Stir together. 
Divide the batter into 12 pieces and roll each piece into a ball. Place on a parchment paper covered baking sheet. Press down to create a cookie shape. Sprinkle with sea salt (optional).  
Bake in the middle of the oven for about 10-12 minutes. 
Let cool on a wire rack, then store in an airtight container or put them in the freezer.