I can't believe we now have a 3-year old in the house! In times like these, I feel so thankful and privileged to be able to throw a little birthday party for Adam. It was nothing big, but it was lovely. He has been talking about his birthday for so long and he's been so excited about turning three.
The only thing he wanted for his birthday was a red monstertruck with BIG wheels and it should not be LEGO. We managed to find one and to see the joy in his face when he opened the box was just so amazing. He didn't let go of the monstertruck for hours after that.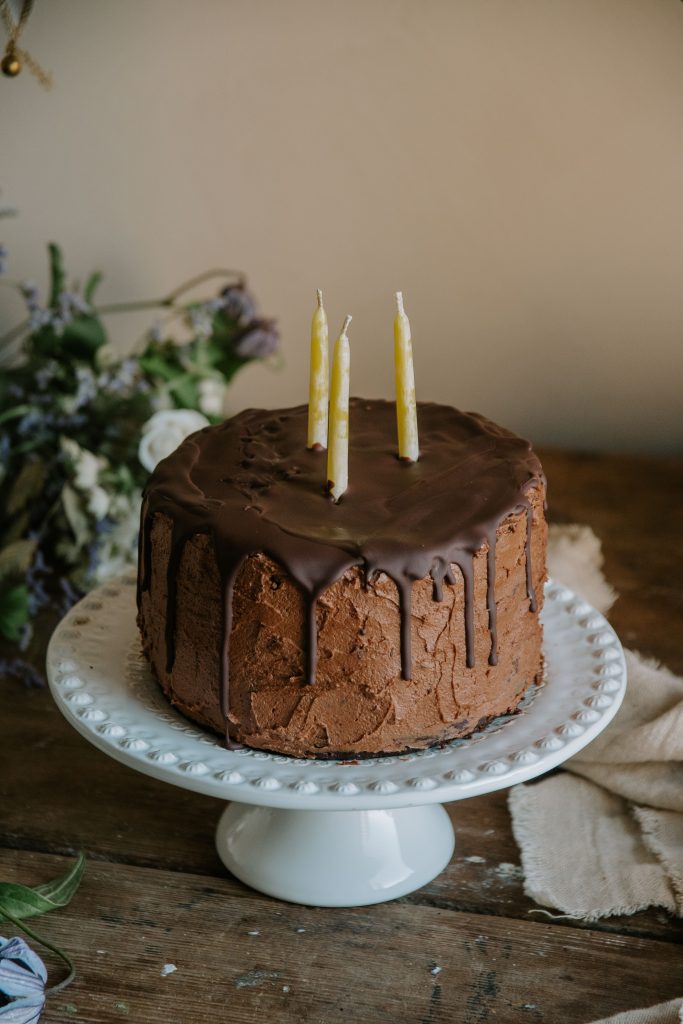 And of course – no birthday without cake! I spent quite some time baking and when our guests had arrived, Adam finally got to see it and blow out the candles. Oh, the happiness! 
I made a 4-layer chocolate cake with chocolate frosting and then covered it with melted chocolate. Not at all difficult to make, but you should start about 3 days before you plan on eating it. Make one cake layer a day (then store in the freezer) and put the cake together on the third day and you won't have to stress. Leaving the finished cake overnight in the fridge allows it to set, which is good. You'll find the recipe below.
Xx, 
Sofia
Chocolate cake with chocolate frosting
10-15 servings 
Cake (you'll need 2 of this) 
125 g vegan margarine 
1 1/2 dl |  135 g granulated sugar
1 dl | 40 g cocoa powder
2 dl | 120 g all-purpose flour
1/4 tsp salt
1 tsp baking powder 
3/4 dl | 75 ml aquafaba 
Frosting 
150 g dark chocolate 
100 g plant based butter
1 dl powdered sugar 
Pinch of salt 
100 g plant based cream cheese 
Decoration 
75 g dark chocolate to pour over the cake (optional)
Instructions
Cake
Preheat the oven to 175°C.
Beat aquafaba and sugar until white and fluffy.
Combine all the dry ingredients and add them to the aquafaba.
Melt the margarine over low heat and add it to the batter. Stir until well combined.
Cover a tall cake pan (abut 15 cm in diameter) with parchment paper and pour the batter into it.
Bake in the middle of the oven for about 30 minutes. The edges should be crispy, but the middle of the cake should be more or less unbaked (it will set afterwards).
Let cool completely, then place in the freezer.
Repeat step 1-7 to make the second cake.
Frosting
Melt the chocolate. Let cool to room temperature.
Beat the butter until fluffy.
Add powdered sugar, salt, and cream cheese and beat for another minute or so.
Add the melted chocolate and beat for another couple of minutes, or until very fluffy.
Assembly 
About an hour before assembling the cake, take out the cakes from the freezer and place in room temperature.
Carefully, using a serrated knife, cut each cake in two horizontal layers. This will leave you with 4 cake layers in total.
Place one cake layer on a cake stand and cover with a layer of frosting.
Place another cake layer on top and cover with frosting.
Repeat until all 4 layers are in place.
Cover the top and the sides with frosting and try to make it as even as possible.
Place in the fridge.
Melt the chocolate and let cool completely.
Pour the melted chocolate over the top of the cake, then place the cake in the fridge again until it's time to eat.
Decorate with candles, buntings or other things to make the cake look like you want.
Serve and enjoy!