I love pasta. I think I could eat it every single day and still not get tired of it. I also love to create new pasta dishes and I have a bunch of new pasta recipes coming to the blog soon. However, I think my forever favorite is spaghetti served with a tomato sauce that has cooked for a looong time. It's incredible what a difference it makes when you let it cook for an hour compared to 10 minutes. I promise, it makes all the difference.
Another thing I love about spaghetti & tomato sauce is that it can be both dressed up and dressed down. It is a wonderful everyday dish that you often can make even when you have nothing at home. It is also a lovely weekend dinner that can be served with some red wine if you'd like. And aren't those dishes the best? The ones you can eat on any day and they taste good no matter what?
Get the recipe below.
Xx,
Sofia
Oh, by the way, the tomato sauce is also lovely to use in a lasagna.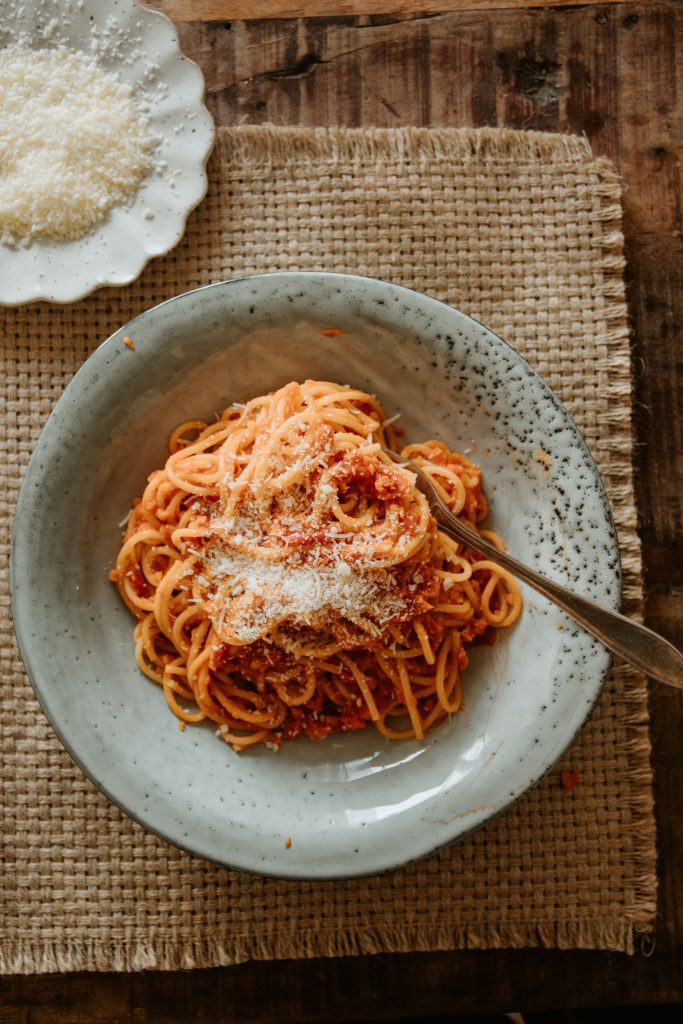 Plant based spaghetti bolognese & my go-to tomato sauce
serves 4
2 tbsp olive oil
2 cloves garlic
2 eschalots
4 tbsp tomato paste 
400 g canned tomatoes 
300 ml water 
250 g red lentils, uncooked 
350 g spaghetti
100 ml pasta water
25-50 g plant-based butter
Parmesan cheese to serve (plantbased or any other kind you prefer)
Instructions
Finely chop garlic and eschalots.
Heat up the olive oil over low heat and add the finely chopped garlic and eschalots. Let cook until soft, but now browned.
Add the tomato paste and let cook for about 5 minutes.
Add the canned tomatoes and water and let simmer for at least 30 minutes. The longer, the better.
Meanwhile, in a separate saucer, cook the lentils according to the instructions on the box. Also, cook the spaghetti according to the instructions. Remember to save about 100 ml pasta water before rinsing.
When the tomato sauce is ready, add the lentils. Stir together.
Put the spaghetti back into the SAUCER. Add the saved pasta water and the butter. Slowly stir until the butter has melted.
Add the tomato sauce to the spaghetti and stir until everything is combined.
Serve with olive oil and parmesan cheese of your choice (I use plant-based).
Enjoy!