Today is my 30th birthday and isn't that a perfect day to start blogging again? I thought so too. It has been quiet here for too long now. There are many reasons for that, but I finally have the time, energy and inspiration to pick it up again. I changed the design a little to freshen things up a bit, and now I'm more inspired than ever to start sharing recipes and photos here again.
Since it's my birthday I thought it would be a good idea to share the recipe for the very birthday cake I'm eating today. If you've been around for a while, you probably know that I l o v e the combination of coffee and chocolate (cinnamon buns will always be my favorite thing to eat though). So, for my birthday I wanted something chocolate-y and coffee-y. I thought turning brownies into a bundt cake and cover it with a coffee glaze would be a great idea, and guess what? It was. It reminds me a bit of the Swedish classic "mocca squares" but it has more coffee in it. And it's more sticky, almost like "kladdkaka". It will definitely be a new favorite in our house, and I will enjoy a piece or two today, that is for sure.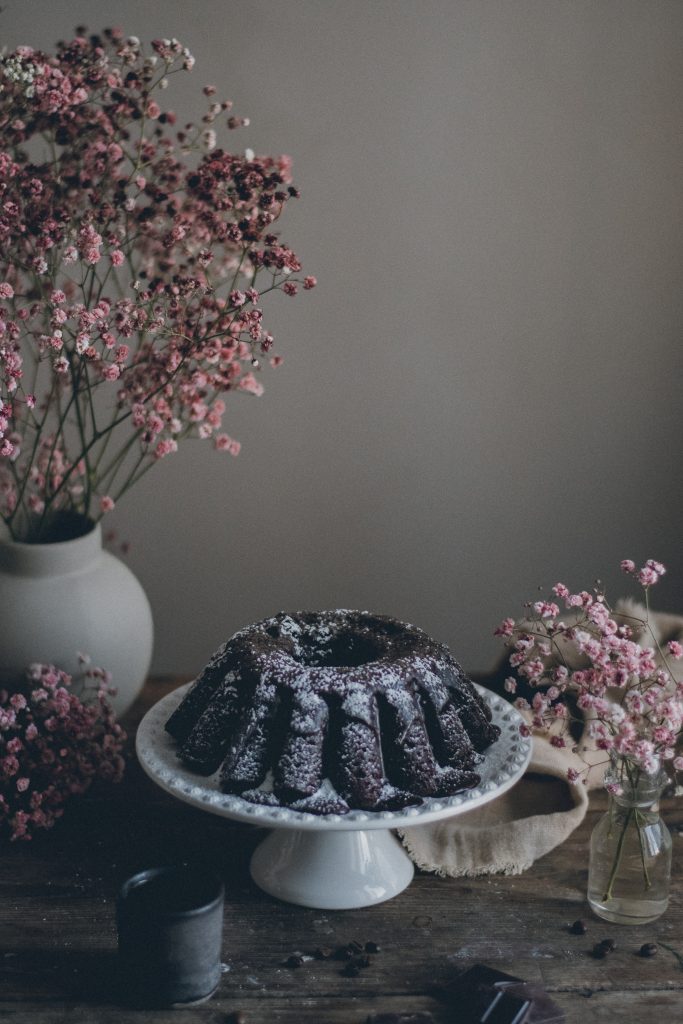 Mocca Chocolate Bundt Cake with Coffee Glaze
1 1/2 dl | 150 ml aquafaba
1 3/4 dl granulated sugar
3 dl all-purpose flour
1 dl cacao powder
2 tsp baking powder
Pinch of salt
3/4 dl rapeseed oil 
5 tbsp strong coffee
Coffee Glaze
25 g vegan margarine 
4 tbsp strong coffee, cold 
4 tbsp cocoa powder
2 1/2 dl powdered sugar
Instructions
Preheat the oven to 200°C.
Beat aquafaba and sugar until white and fluffy.
In a separate bowl combine all the dry ingredients.
Add the dry ingredients to the aquafaba batter.
Add rapeseed oil and coffee and stir until you have a smooth batter.
Grease a bundt pan and pour the batter into it.
Bake in the middle of the oven for about 30-40 minutes.
Meanwhile, prepare the coffee glaze. Melt the margarine and add the coffee. Add cacao powder and powdered sugar and stir until smooth. Let the glaze rest for about 10 minutes in room temperature.
Let the cake cool for a few minutes before you turn the pan upside down. Place the cake on a cake stand and pour the coffee glaze over it. Dust with powdered sugar and serve.