February is an intense month for our family, since all of us have our birthdays during this month. It's like the entire month is like a never ending birthday party. I published a recipe for a mocca chocolate bundt cake on my birthday, but then we had two more birthdays to celebrate so I thought we needed another cake. I've had an idea for a vegan dulce de leche cake for a while, and I thought now was the perfect time to make this idea come to life. Said and done.
It turned out just the way I wanted it to. Soft cake paired with fluffy plant cream and sweet caramel. All topped with caramel sauce and caramel popcorn. I think this is my best cake ever, and I will make it many more times, for sure. I hope you'll love it too!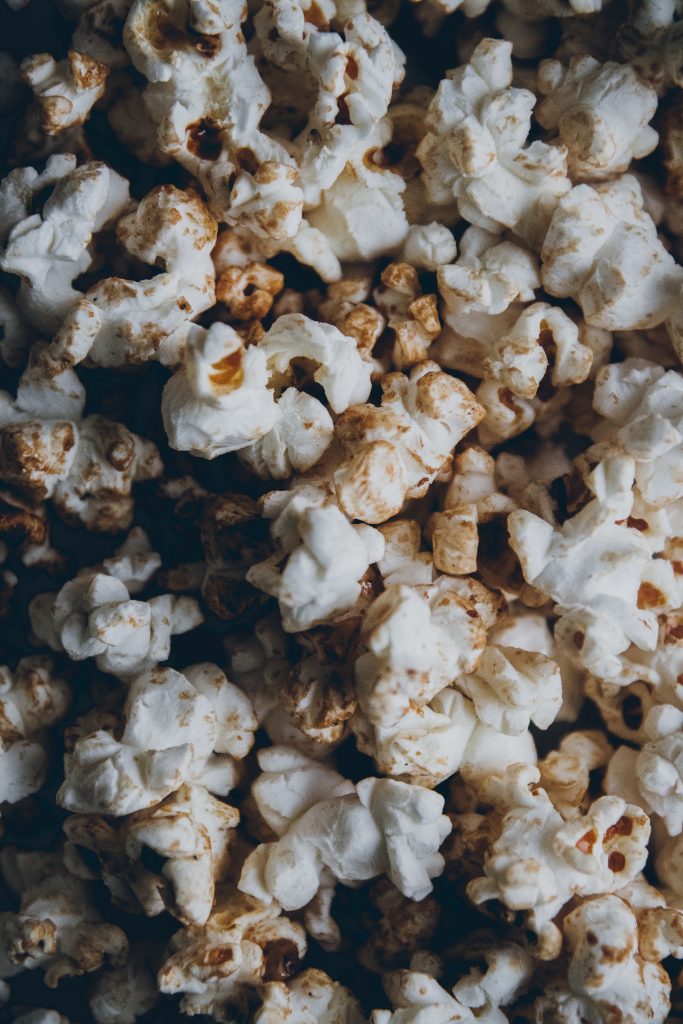 Vegan dulce de leche cake with caramel popcorn
For this cake you'll need 3 layers (2 could work too, but the cake won't be as tall). The recipe for the cake (below) is for one layer, so you'll have to repeat it 3 times. You'll only need one batch of the caramel sauce and filling.
1 cake, serves 8-12
Cake (1 layer)
1 1/2 dl | 150 ml aquafaba 
1 1/2 dl | 135 g caster sugar 
1 3/4 dl | 105 g all-purpose flour
1 tsp baking powder
1/4 tsp pure vanilla powder
Caramel sauce
1 dl | 100 ml whippable plant cream
1 dl | 90 g caster sugar
1 dl | 100 ml light syrup
1  tbsp vegan margarine
Filling and frosting 
2 dl | 200 ml whippable plant cream 
100 g vegan cream cheese 
1/2 dl | 50 ml caramel sauce (recipe above)
Decoration
1 dl | 100 ml caramel sauce
30-50 g popcorn (popped) + 1/2 dl | 50 ml caramel sauce 
Instructions
Cake
Preheat the oven to 200°C.
Add aquafaba and caster sugar to a bowl and beat until fluffy.
In a separate bowl, combine all-purpose flour and baking powder.
Add the flour mixture to the aquafaba and stir until smooth.
Line a 15 cm cake pan with baking parchment and pour the batter into the pan.
Bake in the middle of the oven for about 20-30 minutes, or until light golden.
Let cool for about 15 minutes in the pan, then transfer the cake to a wire rack and let cool completely.
Caramel sauce
Add all ingredients except the margarine to a small saucepan.
Bring to a boil, then lower the heat and let simmer over low heat for 20-50 minutes. The sauce is ready when it has thickened, but it should still be able to pour it. Keep an eye on it, because it thickens quickly at the end.
Remove the pan from the heat and add the margarine.
Let cool completely.
Filling & frosting
Beat the plant cream for a minute or two, until it starts to get fluffy, then add in the cream cheese. Beat until thick and a little stiff.
Pour in the caramel sauce and beat again until well combined.
Assembly & decoration
Place one of the cakes on a cake stand. Place a generous amount of filling on it and spread out. 
Place another cake on top of the filling and once again, place a generous amount of filling on it. 
Place the third cake on top of the filling.
Cover the entire cake with the filling, use a cake spatula to make it smooth. 
Drizzle caramel sauce on top of the cake and spread it out so it runs down the sides of the cake. 
Toss the popped popcorn in caramel sauce and place on top of the cake. If the caramel sauce is too thick, you can heat it up before you toss the popcorn in it.
Enjoy!