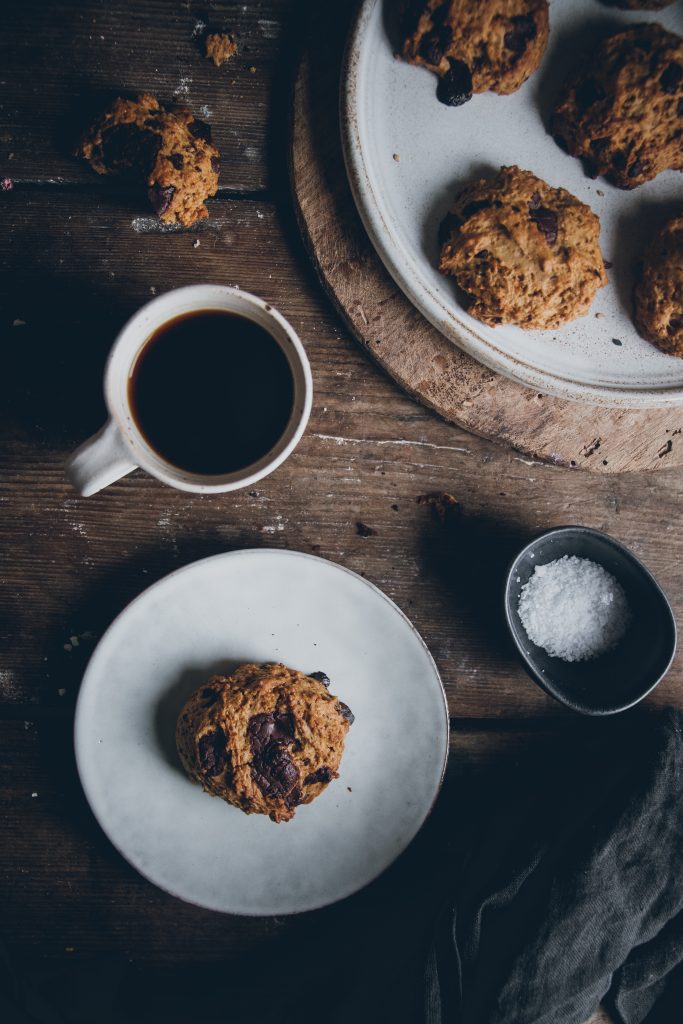 Having a variety of snacks at home is one of the most important things in our family. We bring them with us when we go to the forest, we bring them to the playground and we eat them when the dinner is taking too long to get ready. When leaving for outdoor adventures, we often just bring fruit, but sometimes we pack the bags with sandwiches and for longer trips we also bring lunch. I don't know if it's just me, but I really think food tastes better outdoors.
These cookies are perfect to bring on any outdoor adventure (or indoor for that matter). They are crispy on the outside, soft and chewy on the inside and taste lovely from cardamom and vanilla. The entire family loves them and we often make one batch on Fridays to bring on the weekend adventures to the forest. The cookies we don't eat during the weekend we have as snack the coming week.
With that being said, it's time bake this week's batch of chocolate chip cookies.
Chocolate chip cookies with cardamom and coconut sugar
About 20 cookies
3 1/2 dl | 210 g spelt flour
1 dl | 60 g coconut sugar
70 g dark chocolate
1/2 tsp baking powder
1/2 tsp pure vanilla powder
3/4 tsp ground cardamom
pinch of salt 
50 ml rapeseed oil
1 dl | 100 ml plant milk 
Instructions
Preheat the oven to 200°C.
In a bowl, combine all dry ingredients.
Coarsely chop the chocolate and add to the bowl.
Add rapeseed oil and plant milk and stir to combine.
Spoon out about 20 cookies on a baking sheet covered with baking parchment.
Bake in the middle of the oven for 12-15 minutes, or until golden around the edges.
Let cool on a wire rack.