A few years ago I was obsessed with bars, especially raw food bars made with nuts, seeds and dates. They were perfect as a pre-lunch snack at work. You know when you're so hungry you can't think, yet it's two hours left to lunch time? Now that I have my own business and work from home, I can have lunch at 10 in the morning if I want to, but if you work in an office it's not always simple as that. Anyway. Those raw food bars were a lifesaver back then. I wish would have realized that I could make my own bars instead of buying them, but it took me a while to do so. 
I have tried quite a few different recipes since then. Almost all of them have been great, but I was a bit tired of mixing and wanted something where you can basically just add all the ingredients to a big bowl and you are done. This is the result – oat bars with cashew butter, seeds and dark chocolate.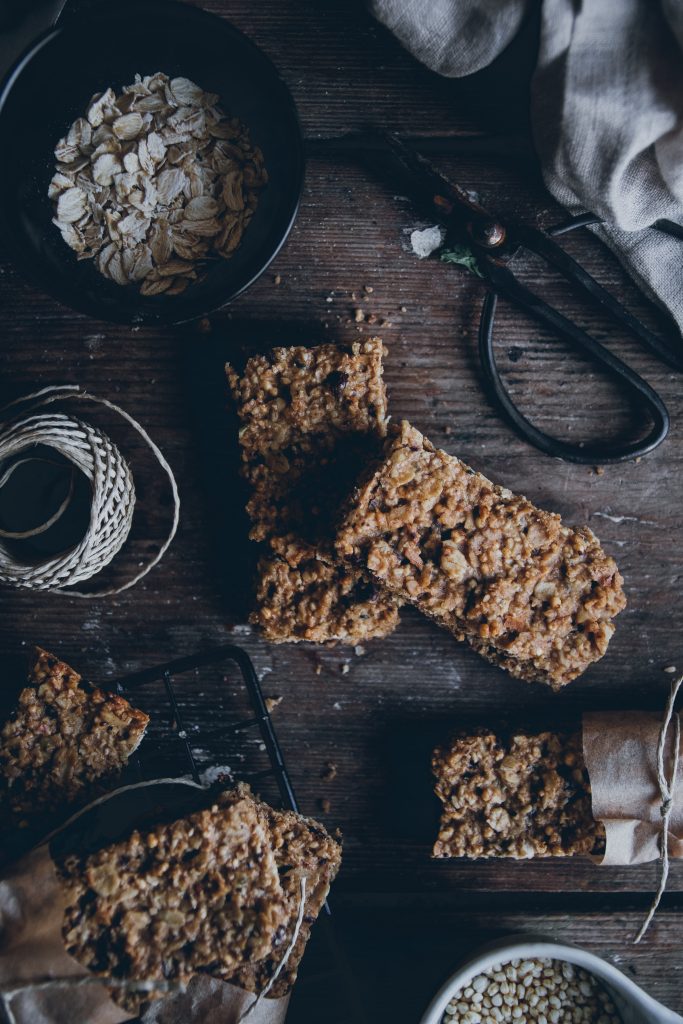 Oat bars with cashew butter and dark chocolate
makes about 10 bars
2 dl rolled oats 
1 dl oat flour
1/2 tsp ground cinnamon 
1/4 tsp fine sea salt
70 g cashew butter
1/2 dl rapeseed oil 
3/4 dl coconut sugar
1/2 dl hemp seeds or sesame seeds
3/4 dl puffed quinoa 
1/2 tsp pure vanilla powder
60 g dark chocolate 
Instructions
Preheat the oven to 175°C.
Line a 20×20 cm baking pan with parchment paper.
Combine all the ingredients except the dark chocolate in a big bowl and stir until well combined.
Note: if you don't have oat flour, just mix rolled oats to a flour in your blender. Measure afterwards to make sure you have the right amount, 1 dl rolled oats does not yield 1 dl oat flour.
Coarsely chop the dark chocolate and add to the batter. Stir to combine.
Transfer the batter to the baking pan.
Bake in the middle of the oven for 25-30 minutes, or until golden around the edges.
Let cool for 15-30 minutes, then cut in squares or rectangles.
Store in an airtight container at room temperature for up to 5 days. You can also freeze the bars, then they will keep much longer.